Student lead is nominated as Dean's list finalist
One of our student team leads, Hannah Chung, won the Dean's List Finalist Award at the Seven Rivers Regional that Wave attended. She also won the NCWIT Award for Aspirations in Computing.
According to FIRST, the Dean's list winners are "student leaders who have led their teams and communities to increased awareness of FIRST and its mission. These students have also achieved personal technical expertise and accomplishment."  There are three stages to the Dean's list award.  The first stage is the Dean's list semi-finals, where 2 students in their sophomore or junior year are nominated by the team.  The Dean's list finalists are made up of 2-4 semi-finalists from each regional.  The final stage is the Dean's list winners, made up of 10 FRC students and 10 FTC students.  Some criteria for nominees include "demonstrat[ing] leadership and commitment to FIRST Core Values, effectiveness at increasing awareness of FIRST in their school and community, interest in and passion for a long-term commitment to FIRST, overall individual contributions to their team, technical expertise and passion, entrepreneurship and creativity, [and the] ability to motivate and lead fellow team members."  Hannah is the first member to become a finalist since 2014, and only the second since the team formed in 2008.  Becoming a Dean's list finalist is an enormous accomplishment.  To find out more about what it means to be a Dean's list finalist, go to https://www.firstinspires.org. 
Hannah also won an award from the National Center for Women & Information Technology (NCWIT) for Aspirations in Computing (AiC).  This award recognizes high school women, genderqueer, and non-binary students for their computing-related achievements to help encourage a diverse range of students to choose careers in technology.  Award recipients were selected from over 3,500 applicants from all over the US and Canada.  Amy Hardy, a Wave mentor stated "we are so proud of Hannah, and are excited to see that her passion for computer science and dedication to STEM education is being recognized by Wisconsin NCWIT."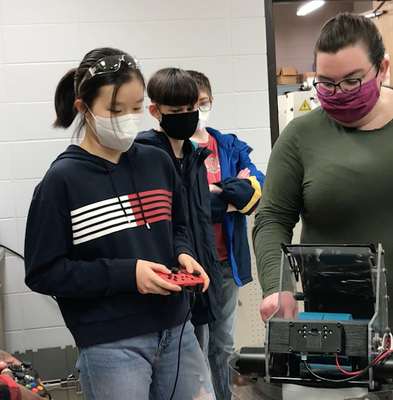 Hannah is a junior at Oshkosh West High School. She first found her passion for STEM at age nine by joining a FIRST LEGO League (FLL) team. She continues to learn more about coding by taking Stanford MOOCs and participating in Girls Who Code. Today, Hannah leads Wave Robotics as a co-team leader and serves The Green Alarm, an environmental organization, as the co-founder and co-president. She shares her love for computing by encouraging young girls to explore STEM by organizing FLL Jr. Explore Expos and partnering with local Girl Scout troops. In the future, Hannah aspires to become an influential person who will revolutionize the world by inventing innovative green technologies.
The team bids farewell to Hannah and wishes her luck at becoming a Dean's list winner at FRC Championships in Houston, Texas.