Wave and Girl Scouts
Wave had the opportunity to help two Girl Scout Troops earn their robotics badge.
Wave was asked by two girl scout troops to help them earn their robotics badge.  We invited them to our space and gave them a tour, presentation and demonstration on our facility and how robots worked. 
Part of the criteria of earning their robotics badge was learning some key terms that relate to robotics.  We started off with a discussion about what robots are, and watched a video about robots.  Then, we toured the Fab Lab and other facilities.  On the tour we highlighted different safety protocols like wearing safety glasses, tying long hair back, wearing closed toed shoes, properly washing hands after using machinery, etc.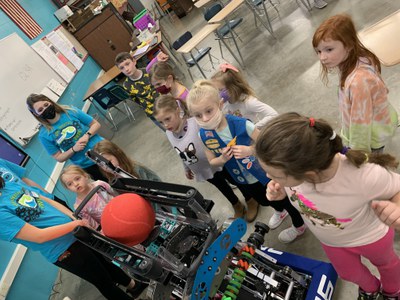 We talked about how robots work and then showed them a demonstration of the Ripple Robot in action.  The kids were in awe when watching the robot and driver interact.  They were persistent to learn how the robot operated.  We then had one final discussion about what everyone learned.  We then took pictures around the space and with some of the robots.  At the end of the tour the girls left with more ideas about the future of robots.